August 27 2006
After a memorable passage from Svalbard, we made landfall in Iceland in the small town of Isafjordur in the far northwest where a big peninsula reaches out like a hand, with deep fjords cutting between fingers of land. The scenery was unique, with steep sided mountains rising hundreds of metres and topped by flat plateaus. After the Arctic everything seemed incredibly green with masses of wildflowers and lush meadows of grass. The day after we arrived the glorious sunshine prompted us to go for a long hike. We set off enthusiastically to climb a 740m mountain behind the town and in spite of our complaining sea-legs managed to scramble up the ever steeper incline to reach the top, where we had breathtaking views all around.
Further up the fjord we visited the small, tranquil island of Aedey (Eider) where one family lives, rearing sheep and geese and harvesting eider-down. Collecting eider-down has always been an important means of making a living in these remote places and it plays an integral part in the Svalbard trappers' lives too. The eider-ducks line their nests with the wonderfully soft and warm down, which is carefully harvested so as not to disturb the nesting process. Cleaning the raw down of bits of grass etc is a laborious process that is done by hand. It is then exported and fetches a very high price per kilo.
We divided the 180 miles to Rekjavik, Iceland's capital in the SW corner of the island, into three longish day sails, stopping off in various tiny fishing villages en route. Colourful houses cluster along the shore beneath the mountains and we were able to tie alongside in the busy little harbours. Everyone was particularly friendly and we were given delicious fresh fish several times.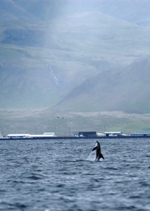 The waters around Iceland are teeming with life and we had several fantastic encounters with Minke Whales and White-beaked dolphin. We were even lucky enough to see a Humpback blowing and diving, raising its tail flukes as it went. The dolphin were rather playful, coming to ride our bow wave and swimming right under the boat. More than once we saw them leaping acrobatically out of the water. This species is endemic to the higher latitudes of the North Atlantic and is thought to number in the tens of thousands, perhaps even a few hundred thousand, throught its range. These dolphin usually form groups of between 5 and 50 and eat a wide variety of fish such as herring, cod and haddock, as well as octopus and crustaceans.
In 2003, despite strong opposition from the International Whaling Commission (IWC), Iceland resumed hunting of Minke Whales under the guise of "scientific research". The governments of 23 countries object that the proposed research is "unjustified and unnecessary", and could be carried out by well-proven, non-lethal methods. Some pro-whalers claim that Minke Whales are depleting fish stocks. This is clearly nonsense as the fish and whales have existed in balance for millenia and human over-fishing is far more likely the reason for poor catches these days. Around 50 whales are killed annually and whale meat is widely available for sale and served in restaurants. Ironically, whale watching in Iceland is one of the fastest growing industries, bringing in millions of dollars in revenue every year. From the dock where we are moored in Rekjavik several whale watching operations take large numbers of tourists out every day. Just a few yards away lie 3 disused whaling ships and a fourth is hauled out in the shipyard undergoing a major upgrade. It will be back in commission soon using every modern location aid and high powered harpoons to hunt these beautiful, defenceless animals for no purpose other than commercial gain. You can help end Icelandic whaling by writing in protest to the government. For more information CLICK HERE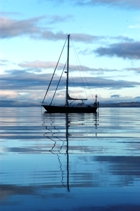 Rekjavik is a large, modern, vibrant city where about half of Iceland's 260,000 population live and it has been our first taste of "civilisation" in several months. In between doing some necessary boat maintenance such as changing the engine impeller and replacing a faulty block for the self-steering, we have taken time out to explore the city. There is a great atmosphere, numerous cafes and bars, excellent museums and best of all several outdoor, geothermally heated swimming pools with hot tubs up to 40 degrees C! Our time in Iceland has been all too brief and it is definitely somewhere we would like to return to one day... ...but with an unexpectedly favourable weather gap offering us what looks like 4 or 5 days of stiff northerly winds, we will be setting sail tomorrow for the Azores, about 1500 miles south.
Back to Top